Project for School of The Future
Cassie Thornton and Chris Kennedy's project School of The Future (SoTF) re-imagined what a school could be in a park in Brooklyn in the Summer of 2010 with the help of Trust Art, an artists funding and support platform. As someone who had created an urban play-based arts program for children and families and made it a sustainable sliding scale model, I was asked to collaborate. For School of the Future, I created a kids month long art making vehicle that was evolved from former incarnations of public projects with FIGMENT and GOLES (Good Old Lower East Side public housing advocacy) in 2009 and early 2010. School of the Future sought generative models for children re-imagining a school and learning. I met and reached out to a local community resident, Ms. Delgado to work with me. We used sculptures I had made,and materials scavenged by the park to create a fantasy school with the children from PS.110 for one month.
The curriculum that was developed by Ms. Delgado and myself sought to accommodate themes that the teacher requested (safety, friendship, the life of ponds, are you ready for a pet? etc.) The school's organic sculptural configurations encouraged children to build fantasy structures and habitats connected to and within the school and to create miniature versions of themselves, ecosystems, and imagined pets, activating aspects of themes and engaging in unstructured play together in the little world they created. I invited GOLES activist, Marquis Jenkins, who brought in his mixed pit bull, a beloved pet, to teach the children about caring and responsibility for an animal, as he was trying to develop a similar teaching model for youth in public housing.

On the last day of the school, Rebuilding the City was built, un-built, and rebuilt throughout the day. The idea riffs on the current phenomenon of the Imagination Playground debuting at the same time at South Street Seaport that involves interlocking foam blocks and costs around 25,000 dollars but celebrates the dire importance of child-centered, unstructured play to a child's development. Rebuilding the City seeks to do likewise, but with the emphasis on accessibility for all. In the spirit of SoTF, it's an idea that gains value when it is replicated in different communities and scales.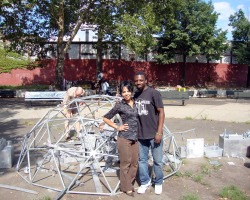 Ms. Delgado and Marquis Jenkins
---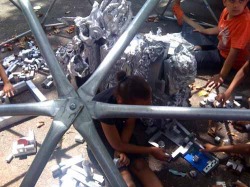 ---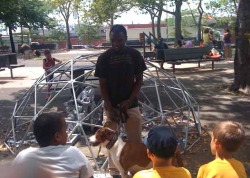 ---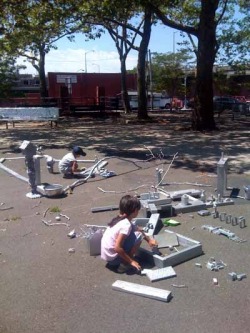 ---