Representations of ( for and by) the Worker: Student Work

"Representations of the Worker" spans several semesters of a public art class taught at SUNY Harry Van Arsdale Jr.School for Labor Studies with local 3 electricians and local 1 plumbers. While not a studio course, the class has become an art-making course where a creative project may even satisfy a capstone requirement. The first public exhibition was sparked by a question posed to the students; "Given the lack of workers represented in art—compared to the WPA period—how would you represent the worker?" One of my former students, Brian Petrocelli, took a series of photographs on his jobsite that continued to respond to this query. We appropriated temporary public space on a pier in the LES for the primary audience of construction workers and their families..
The other works pictured here reflect some of the other themes of our class, the historical elevation of art over craft, the worker's skill and labor being rendered ever more invisible, how the built environment (and art itself) has embodied certain value systems that increasingly place profit before people, and a study (and possible creation) of work that counteracts these trends. These projects also delve into who the audience for art can be and the possible impact art can have for them.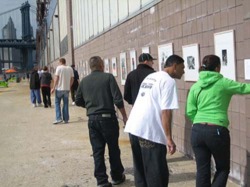 Representations of the Worker
---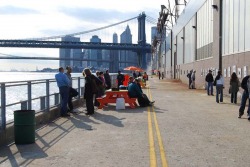 Representations of the Worker
---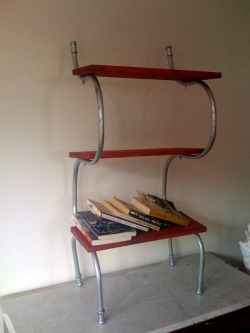 Bookshelf and working class text compilation by Ruth Herzon
---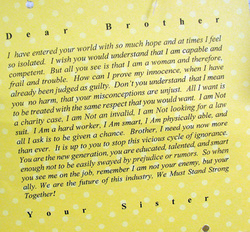 Open Letter to My Brothers by Stella Fafalios
---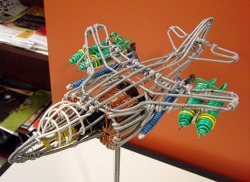 Plane by Rodney Vega
---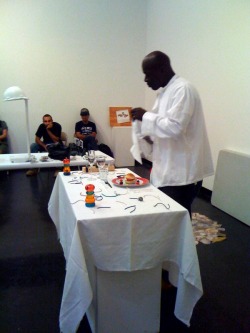 Performance "Electrician's Banquet by Ted Zimmerman
---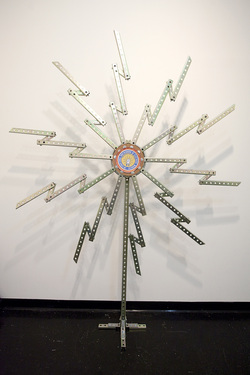 Sculpture by Luis DeLeon
---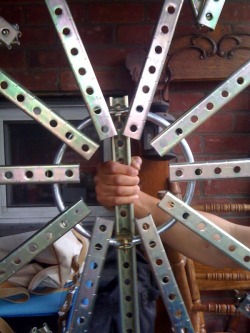 Detail (DeLeon)
---